Quantitative assessment of damage during MCET: a parametric study in a rodent model
Journal of Therapeutic Ultrasound
2015
3:18
Received: 12 March 2015
Accepted: 7 October 2015
Published: 16 October 2015
Abstract
Background
Myocardial cavitation-enabled therapy (MCET) has been proposed as a means to achieve minimally invasive myocardial reduction using ultrasound to produce scattered microlesions by cavitating contrast agent microbubbles.
Methods
Rats were treated using burst mode focused ultrasound at 1.5 MHz center frequency and varying envelope and pressure amplitudes. Evans blue staining indicated lethal cardiomyocytic injury. A previously developed quantitative scheme, evaluating the histologic treatment results, provides an insightful analysis for MCET treatment parameters. Such include ultrasound exposure amplitude and pulse modulation, contrast agent dose, and infusion rate.
Results
The quantitative method overcomes the limitation of visual scoring and works for a large dynamic range of treatment impact. Macrolesions are generated as an accumulation of probability driven microlesion formations. Macrolesions grow radially with radii from 0.1 to 1.6 mm as the ultrasound exposure amplitude (peak negative) increases from 2 to 4 MPa. To shorten treatment time, a swept beam was investigated and found to generate an acceptable macrolesion volume of about 40 μL for a single beam position.
Conclusions
Ultrasound parameters and administration of microbubbles directly influence lesion characteristics such as microlesion density and macrolesion dimension. For lesion generation planning, control of MCET is crucial, especially when targeting larger pre-clinical models.
Keywords
Cavitation microlesionsHypertrophic cardiomyopathyMyocardial macrolesionTherapeutic ultrasoundQuantitative therapy analysis
Introduction
Hypertrophic cardiomyopathy (HCM) is a common genetic cardiovascular disease, which is usually clinically recognized by a maximal left ventricular wall thickness greater than 15 mm [1]. This globally prevalent disease, reported in about 0.2 % (i.e., 1:500) of the general population, is the most frequent cause of sudden death in young people and can lead to functional disability from heart failure and stroke [2].
The traditional treatment for HCM to reduce myocardium is septal myectomy. This surgical method removes septal hypertrophy, which possibly leads to perturbation of mitral valve leaflets [3]. An innovative therapeutic scheme, named myocardial cavitation-enabled therapy (MCET), has been proposed as a means to achieve minimally invasive myocardial reduction by cavitating contrast agent microbubbles with ultrasound to produce a fractional macrolesion containing sparse and histologically definable microlesions [4]. There are several ways of controlling cavitation here. Cavitation is enabled by the injection of ultrasound contrast agents. These will enable cavitation only in the focal region of the transducer and thus only there lead to microlesion formation in the myocardium. Second, ultrasound cavitation is dependent on sound pressure amplitude. In vivo experiments reveal that cavitation-induced lesions take place at peak rarefactional pressures larger than 2 MPa as obtained under free field conditions. In this case, ECG is monitored for premature complexes. It has been seen that the occurrence of premature complexes is directly correlated with cavitation events [5].
As a potential tissue reduction therapy, MCET avoids open-chest surgery and is hypothesized to allow healing with minimal scar formation, resulting in shrinkage of the cardiac treatment volume. This ultrasound microbubble-enabled method additionally provides the possibility of guiding and monitoring via quantifying feedback from the microbubble emissions.
To optimize MCET ultrasound parameters and administration of microbubble settings, assessment of the therapeutic effect is needed to assist parameter adjustment. Efforts in computerized analysis have been made to aid diagnostics and therapy for being fast, objective, and quantitative. Methods have been developed for computed tomographic angiography for the purposes of detecting heart diseases [6, 7] and for quantification of coronary arterial stenosis [8]. Automatic detection of pulmonary embolism has also been used in CT angiography [9, 10]. Quantitative ultrasound has been employed in diagnosis of osteoporosis [11], as well as in at-risk pregnancies with three-dimensional sonographic measurement of blood volume flow in umbilical cords [12]. Three-dimensional high-frequency ultrasound data also has been processed to offer a quantitative evaluation of cancerous lymph nodes at the microscopic level [13].
For MCET, a quantitative method for assessing the distribution and total accumulation of myocardial necrosis based on Evans blue-stained cells in the tissue histology slices was developed previously [14] and is used in this study. This paper investigates the tuning of various parameters involved in MCET and paves the way for pre-clinical treatment planning of myocardial lesion creation and properties thereof, in a quantitative manner.
One important and practical aspect of MCET is managing the buildup of microlesions and macrolesions to achieve a desired amount of myocardium reduction in larger pre-clinical models as well as, ultimately, in the clinic. Acoustic pressure amplitude, contrast dose, and treatment duration are adjustable variables. The parametric exploration of various conditions will assist in the search for feasible treatment conditions that allow for fast lesion creation with a 15–20 % microlesion density and a large axial and lateral dimension. Another desirable factor for practical clinical implementation is the treatment efficiency. Instead of treating a single focal spot as done in our previous study [4], a scanned beam would allow for a more rapid accumulation of lesions in a larger target treatment volume.
Our method of computer-aided histology analysis was developed using relatively high exposure parameters to reflect therapeutic treatment conditions [12]. This provided a means to reconstruct the tissue volume containing microlesions and their distribution, which can then be integrated to yield the potential fraction of tissue reduction. For validation, a visual scoring method was used in tandem, in which lethally injured cells indicated by fluorescent staining in frozen sections were counted. The visual method has been the gold standard for quantifying cell death by counting the absolute number of stained cells. However, when the number of stained cells becomes large, as for treatment (rather than exploring bioeffects), the visual method becomes a qualitative scoring method, which was suspected to yield inaccurate results for the validation for the computer-aided method. The purpose of this study was to analyze several exposure groups, which had reduced, sub-therapeutic treatment effects, using quantitative visual scoring for comparison to the computer-aided analysis.
Materials and methods
Experimental conditions
In order to make MCET amenable to clinical translation, the evaluation of B-mode echogenicity (more generally backscatter), physiological responses, i.e., premature complexes and visual scoring [
15
] is employed. For this study, tissue samples were collected and prepared for histological evaluation. Specifically, these samples underwent quantitative analyses aimed to assist the treatment planning. In vivo animal procedures were conducted on 50 male Sprague-Dawley rats (Charles River, Wilmington, MA, USA) including 5 sham rats weighing 352 ± 30 g. Approval and guidance of all animal work was done by the University Committee on Use and Care of Animals. All rats in the treated group were injected with Definity® (Lantheus Medical Imaging, Inc., N. Billerica, MA) at a rate of 5 or 12.5 μL/kg/min. Microbubbles suspended and diluted in sterile saline were infused via a tail vein or jugular vein catheter (gauge #24) starting 15 s before ultrasound exposure and concluding with the end of exposure. MCET was performed with ultrasound bursts of 5-cycle pulses at a center frequency of 1.5 MHz and a pulse repetition frequency of 4 kHz. The ultrasound exposure system consisted of a function generator for generating a pulse train (model 3314A function generator, Hewlett Packard Co., Palo Alto CA), an arbitrary waveform generator for amplitude modulation of the pulse train (model 33220A, Agilent Technologies, Loveland CO), a power amplifier (A-500, Electronic Navigation Industries, Rochester NY), and a 1.5-MHz single element therapy transducer (Panametrics A3464, Olympus, Waltham, MA). The therapy transducer was a standard single-element focused transducer, with a 1.9-cm diameter and 3.8-cm focal length. The treatment was targeted with the aid of diagnostic ultrasound imaging (GE Vivid 7 with S-10 phased array, GE Healthcare, Jupiter FL, USA) operated at 10 MHz with a 5-cm focal depth, as previously described [
15
]. The setup scheme as illustrated in Fig.
1
provided targeting of the therapy beam and for low-power imaging of the heart during exposure. The imaging array and therapeutic transducer were fixed at a 37° angle such that the acoustic axis of the therapy transducer is parallel with one image line of the sector array. This image line was identified in a water tank using a line target and marked on the screen of the ultrasound scanner. Then, this image line was used to evaluate acoustic access to the left ventricular wall. Subsequently, the transducer/probe gantry was translated such that the therapy transducer beam aimed along the same fixed path as the image line identified in the image to pass through the window between the ribs (vertical axis) and between the sternum and the left lung. Burst emissions were triggered from the ECG signal at every four heartbeats end-systole. Prior to ultrasound exposure, all rats were injected with Evans blue, a reliable histological stain for lethal injury of cardiomyocytes [
15
].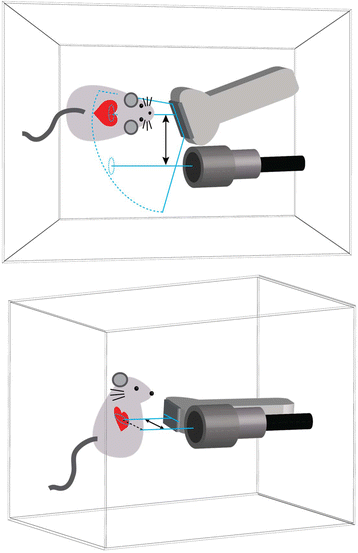 The study was conducted with groups of five rats each and given letter designations to identify the specific set of conditions in each group. Groups A to J were designed specifically to test treatment effects for different parameters, as listed in Table
1
. Except for groups G and H, all rats were exposed to ultrasound with a maximum rarefactional pressure amplitude (PRPA) of 4 MPa. The pulses in the center of the focal region were measured in a water bath using a calibrated hydrophone with a 0.2-mm diameter aperture (model HMA-0200, Onda Corp., Sunnyvale, CA) to acquire the point spread function and the electro-acoustic transfer function. Comparison of groups A and B tested the influence of catheter placement, with the jugular vein giving a central and larger vein access than the tail vein. Groups B and C were compared to test the effect of aiming ultrasound near the ribs. Those two comparisons were performed intentionally to test experimental perturbations.
Table 1
Table of sets of conditions used for respective groups of rats, with a cohort of five animals each
Experiment conditions for rat groups

Group ID

Infusion site

Pressure (PRPA)

Modulation

Infusion rate

Treatment duration

A

Tail

4 MPa

Square

5 μL/kg/min

5 min

B

Jugular

4 MPa

Square

5 μL/kg/min

5 min

C

Jugular

4 MPa

Square

5 μL/kg/min

5 min

D

Jugular

4 MPa

Gaussian

5 μL/kg/min

5 min

E

Jugular

4 MPa

Gaussian

12.5 μL/kg/min

2 min

G

Tail

2 MPa

Gaussian

5 μL/kg/min

5 min

H

Tail

2.8 MPa

Gaussian

5 μL/kg/min

5 min

I

Tail

4 MPa

Gaussian

5 μL/kg/min

100 s

J

Tail

4 MPa

Gaussian

5 μL/kg/min

30 s
Groups B and D compared the results of treatment using square versus Gaussian pulse train modulations of the acoustic pressure. The single element transducer delivered a Gaussian envelope pulse train, such that the full-width half maximum of the Gaussian modulation was 2 ms. This modulation scheme was to simulate an exposure that would be experienced by contrast agent in the presence of a sweeping ultrasound beam, as found in a diagnostic imaging setup [
16
]. To reduce treatment times for larger treatment, volumes such a beam could be implemented as a sweeping therapy beam and is thus included in the tested exposure conditions. Note that only the pulse train envelope is Gaussian modulated. Each individual pulse is a constant amplitude 5-cycle tone burst (see Fig.
2
). The amplitude modulation was set to give zero exposure unless a modulation envelope signal was triggered. The envelope signal was either a 2-ms square pulse with a constant amplitude of 4 MPa PRPA or a Gaussian modulation function that produced a 2-ms pulse with amplitudes greater than 2 MPa PRPA. The Gaussian modulation was designed to emulate a scanned ultrasound beam from a clinical ultrasound scanner, with approximately 56 frames per second (fps).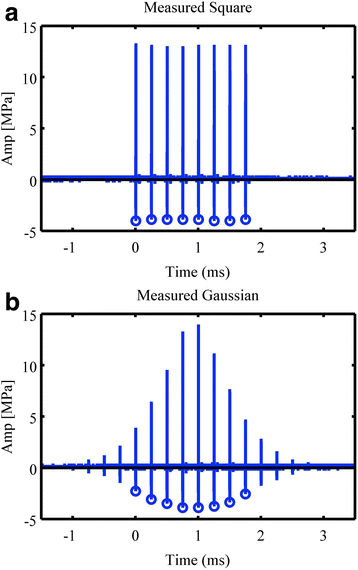 Different contrast agent dose rates were tested by comparing groups D and E. The previous rate was 5 μL/kg/min, representing the recommended dose for diagnostic applications [4]. A higher infusion rate of 12.5 μL/kg/min was tested for the possibility of using a higher dose in therapeutic applications, which may reduce treatment durations.
Comparison between groups G, H, and D evaluated the dependence of lesion formation on acoustic pressure. The three groups were respectively exposed to ultrasound fields of 2, 2.8, and 4 MPa PRPA. Groups J, I, and D, on the other hand, evaluated microlesion accumulation by varying the treatment duration, i.e., adjusting the contrast infusion duration. Groups G, H, I, and J were specifically treated with sub-therapeutic parameters with reduced treatment impact on cell survival. Correlation between acoustic pressure, treatment duration, and induced microlesion density was intended to establish some dynamic range for microlesion induction.
Finally, group F was a sham and calibration control group, in which each rat received the full 4 MPa therapy exposure before the contrast agent infusion started.
Results in groups are presented in boxplots. For each box, the central mark is the median, the edges of the box are the 25th and 75th percentiles, the whiskers extend to the most extreme data points not considered outliers, and outliers are plotted individually. The normal range was defined as q 3 + 1.5 (q 3 − q 1) or smaller than q 1 − 1.5 (q 3 − q 1), where q 1 and q 3 are the 25th and 75th percentiles, respectively.
Cardiomyocyte scoring
Rat hearts were harvested and scored 1 day after exposure as described in previous work [15]. Briefly, up to 40 10-μm-thick frozen sections were made from the treated volume in each heart. A quantitative method for assessing the distribution and total accumulation of myocardial necrosis is based on Evans blue staining and was developed previously [14]. Microlesions were identified by fluorescence microscopy and photographs of each section. Image registration was then performed to digitally stack the frozen sections in 3D and to reconstruct a model of the heart morphology in the entire sampled region showing the three-dimensional distribution of microlesions. The microlesion fraction of the tissue within the focal zone was calculated to estimate the potential fractional volume of tissue reduction that was achieved. Quantitative results were characterized in terms of microlesion volume, macrolesion volume, microlesion lesion density, and dimensions of the radially symmetric approximated macrolesion.
In addition to the computer-aided assessment, traditional visual scoring was used to evaluate myocardial necrosis qualitatively by visual identification and quantitatively by scoring of Evans blue-stained cells using fluorescence microscopy [15]. Automatic scores were obtained from dividing the geometric microlesion volume by a constant conversion factor acquired from a geometry-based cardiomyocyte model [14].
Therapeutic field simulation
The acoustic field, assuming a water path, for the employed single-element therapeutic transducer was simulated in FIELD II [
17
], a widely used ultrasound simulation program. A 1.9-cm diameter concave single-element transducer with 3.8 cm focus excited at 1.5 MHz with a 5-cycle burst was modeled. Two successive bursts 250 μs apart (4 kHz PRF) were significantly larger than the 3-μs pulse train length. Thus, they were considered to have no interference on each other's acoustic field. Figure
3a
shows a normalized field reflecting the maximum exposed pressure during one burst. The effective region of sound pressures with amplitudes above the acoustic pressure threshold of 2 MPa is indicated in Fig.
3b
. By revolving this shown region along the lateral (
x
 = 0 mm) axis, the effective volume, denoted as an axisymmetric rotational model, was calculated. This simulation intended to associate in situ acoustic field with the formed lesion.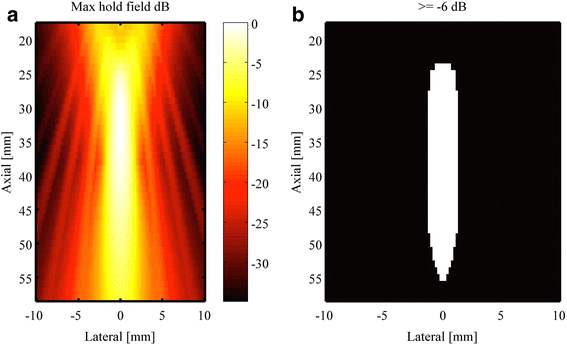 Discussion
The quantitative results generated by the previously developed and here tested computer-aided scheme provide possibilities for numeric and quantitative 3D lesion analysis and their dependence on experimental parameters that were investigated for their relevance for developing and improving MCET.
Conclusion
The quantitative scoring scheme overcomes the limitation of traditional visual scoring and works for histological cases with a large lesion count, i.e., has an appropriate dynamic range for evaluating therapeutic applications. The presented results have shown that MCET-induced macrolesions grow radially as the acoustic pressure amplitude increases. A swept beam as a new method to shorten treatment time seems promising but requires additional verification to ensure efficacy. These characterizations and validations may assist future MCET treatment planning.
Declarations
Acknowledgements
This work was supported by PHS grant HL114595 awarded by the National Institutes of Health, DHHS.
Open AccessThis article is distributed under the terms of the Creative Commons Attribution 4.0 International License (http://creativecommons.org/licenses/by/4.0/), which permits unrestricted use, distribution, and reproduction in any medium, provided you give appropriate credit to the original author(s) and the source, provide a link to the Creative Commons license, and indicate if changes were made. The Creative Commons Public Domain Dedication waiver (http://creativecommons.org/publicdomain/zero/1.0/) applies to the data made available in this article, unless otherwise stated.
Authors' Affiliations
(1)
Department of Biomedical Engineering, University of Michigan, Ann Arbor, USA
(2)
Department of Radiology, University of Michigan Health System, Ann Arbor, USA