Study protocol
Open Access
Fast and high temperature hyperthermia coupled with radiotherapy as a possible new treatment for glioblastoma
Journal of Therapeutic Ultrasound
2016
4:32
Received: 20 April 2016
Accepted: 18 November 2016
Published: 8 December 2016
Abstract
Background
A new transcranial focused ultrasound device has been developed that can induce hyperthermia in a large tissue volume. The purpose of this work is to investigate theoretically how glioblastoma multiforme (GBM) can be effectively treated by combining the fast hyperthermia generated by this focused ultrasound device with external beam radiotherapy.
Methods/Design
To investigate the effect of tumor growth, we have developed a mathematical description of GBM proliferation and diffusion in the context of reaction–diffusion theory. In addition, we have formulated equations describing the impact of radiotherapy and heat on GBM in the reaction–diffusion equation, including tumor regrowth by stem cells. This formulation has been used to predict the effectiveness of the combination treatment for a realistic focused ultrasound heating scenario.
Our results show that patient survival could be significantly improved by this combined treatment modality.
Discussion
High priority should be given to experiments to validate the therapeutic benefit predicted by our model.
Keywords
Magnetic resonance-guided focused ultrasoundHyperthermiaOncologyGlioblastoma
Background
Glioblastoma (GBM) is a highly aggressive tumor of the central nervous system, corresponding to grade IV of the World Health Organization's histological classification [1]. High-grade gliomas are the most common primary brain tumors in adults, with an incidence of 3.1 per 100,000 person-years in USA and with a median survival time of 14.6 months after diagnosis [2] and 11.9 months after first resection [3]. Because of their invasive nature, GBMs recur in more than 90% of patients, generally centrally [4] even if marginal and distant failures are reported [5]. The current standard treatment includes external beam radiotherapy (EBRT), maximal surgery, and chemotherapy with temozolomide (TMZ).
The standard treatments for GBM that include EBRT result in a significant increase in patient survival [6]. Dose escalation studies have demonstrated survival improvements up to an overall dose of 60 Gy [7, 8], generally with a dose fractionation of 2 Gy/day, 5 days a week, for a total of 6 weeks for the whole treatment. Beyond this dose, there is only a minimal increase in survival for severely increased toxicity [5, 9].
The study by Elaimy et al. [10] supports the use of stereotactic radiosurgery (SRS). SRS is used either to boost EBRT treatment or to treat small-volume recurrences. The addition of bevacizumab (BEV) after SRS was shown to lower the rate of tumor progression and radio-toxicity [11, 12]. The potential advantages of combining high-intensity focused ultrasound (HIFU) and radiotherapy (RT) in oncology were recently reviewed [13].
In a recent paper, Coluccia et al. [14] described the first successful non-invasive thermal ablation of a brain tumor with transcranial magnetic resonance-guided focused ultrasound (TcMRgFUS) [15]. This paper reported a tumor recurrence in the left thalamic and subthalamic region after surgery for a posteromedial temporal lobe GBM. A total of 25 sonications was applied (17 over the heat ablative threshold); the total sonication time was more than 3 h and about one tenth (0.7 cm3) of the total enhancing tumor volume (6.5 cm3) was ablated with an Insightec MRgFUS Exablate Neuro system [15].
The main aim of this paper is to demonstrate theoretically, as a "proof of principle", how the use of TcMRgFUS to generate "fast" hyperthermia (HT), combined with 6 weeks' EBRT therapy (one or two sessions per week, 1 h each), could have resulted in a successful treatment of the whole tumor. Our approach requires minimal or no modification of the commercially available brain sonication system [15].
Results
In this section, we compare the tumor cell survival corresponding to the different treatments (Table
2
and Fig.
3
).
Table 2
Parameter values along with bibliographic references of the curves shown in Fig. 3. "Time to offset" is the time for the tumor to come back to the initial value. Curves n. 5 and 6 are calculated with 1-h delay between the end of RT and the beginning of HT. Curves 7 and 8 are calculated with 2-h delay between the end of RT and the beginning of HT
| Number | Title | α (Gy−1) | β (Gy−2) | Minimum survival value | Time to offset | Reference |
| --- | --- | --- | --- | --- | --- | --- |
| 1 | Only RX (unrealistic) | 5.4 × 10−2 | 4.2 × 10−2 | 3.61 × 10−4 | 2.29 years | [108] |
| 2 | Yu 2 Gy × 30–CSCs | 1 × 10−2 1.25 × 10−1 | 1.77 × 10−7 2.8 × 10−2 | 1.66 × 10−2 | 210 days | [122] |
| 3 | Yu–Extrapolated | 1 × 10−2 1.25 × 10−1 | 1.77 × 10−7 2.8 × 10−2 | – | – | Extrapolation of the previous SF |
| 4 | Powathil 2 Gy × 30 | 2.7 × 10−2 | 2.7 × 10−3 | 1.89 × 10−1 | 226 days | [20] |
| 5 | RX + HT 3 Gy × 12–1 h | 3.36 × 10−1 | 8.7 × 10−2 | 2.897 × 10−8 | 4.61 years | [108] |
| 6 | RX + HT 4.7 Gy × 6–1 h | 3.36 × 10−1 | 8.7 × 10−2 | 4.986 × 10−8 | 4.48 years | [108] |
| 7 | RX + HT 3 Gy × 12–2 h | 3.36 × 10−1 | 8.7 × 10−2 | 3.286 × 10−7 | 4.02 years | [108] |
| 8 | RX + HT 4.7 Gy × 6–2 h | 3.36 × 10−1 | 8.7 × 10−2 | 4.986 × 10−7 | 3.91 years | [108] |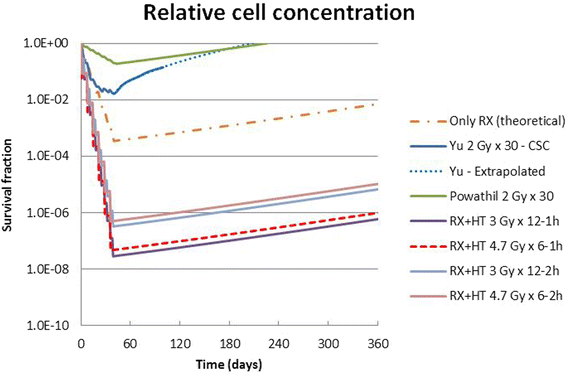 Note that the "standard" treatment (2 Gy × 30, N.1 in Table 1, dash-dotted orange line in Fig. 3) is calculated neglecting the stem cell effect (only EBRT–RX). Due to the presence of cancer stem cells, this treatment should be considered unrealistic.
Curves 2 and 3 (solid and dotted blue lines, respectively, in Fig. 3) include the effect of the CSC cells [122]. The exceptional resistance of CSCs and the interplay of these cells with CDC progressively reduces the rate of decrease of the cancer cells ("adaptive response"). The clinical data are reproduced reasonably well by the LQ model when assuming lower α and β values (curve 4, solid green line, in Fig. 3). This model is applied to both CSCs and CDCs. The fraction of CSCs in the total cell number (F) is assumed to be 1.6 × 10−2. Curve 4 was previously calculated [20] using Eq. (4) and clinical radiobiological data [7]. It is interesting to note that this curve, by assuming very low values for α and β, reproduces quite well the "time to offset" (i.e., the time for the tumor volume to grow back to its initial volume) of the previous curves that are based on the effect of CSCs. Curves 5 and 6 in Table 2 (purple solid and red dotted lines in Fig. 3) show the effect of the new RX + HT treatments. Curve 5 corresponds to protocol B1, with two sessions a week (for example, Monday and Thursday), in which, after conformal RT with a maximum dose of 3 Gy, HT is administered with a CEM43 of 60 min. Curve 6 corresponds to protocol B2: one session a week with a larger radiation dose (4.7 Gy) and the same thermal dose (CEM43 = 60 min). Curves n. 5 and 6 are calculated with 1-h delay between the end of RT and the beginning of HT. Curves 7 and 8 are calculated respectively as curves n. 5 and 6, but with 2-h delay between the end of RT and the beginning of HT.
Discussion and conclusions
As is clear from Table 2 and Fig. 3, the proposed protocols with RX + HT easily outperform the traditional ones; they lead to a low survival level of tumor cells and a long offset time such that the patient is effectively cured, in contrast to glioblastoma treatment today where cure is never achieved. At very low levels of cell survival, the immune system may also play an important role [123]. To our knowledge, the proposed methodology is the only one capable of achieving curative outcomes. In addition, we wish to emphasize that we used the CEM43 concept [124] to establish an equivalence, in terms of the total cell-killing effect, between the Raaphorst data [108] obtained at 45 °C and the hypothesized HT pulse shape of Fig. 1. This choice doesn't take into account radiation–heat synergy. In this regard, Law [125] found that for heat combined with X-rays, the time required to produce a given level of radiodermatitis was reduced by a factor of three for a rise in temperature of 1° (in comparison with the Sapareto and Dewey [124] law, which predicts a factor of two). Even if the law result was obtained in a different tissue, our data could be an underestimation, and a pulse shape with a lower HT maximum temperature and/or a lower time length can be possible in practice. Of course, on this point, direct experimental data are required. In any case, the illustrated results can be obtained without significant modification of the present system. Regarding the two proposed protocols, only experience will help to choose between them: B2 is easier to execute in clinical practice (just one session a week) but it is not clear if we would have the same benefits from the clinical point of view (oxygenation and immune system stimulation).
It is important to emphasize that the equivalent doses [56] of the two proposed treatments are more than 35% lower than the "reference" dose of 60 Gy, given in 2 Gy fractions, five days a week for a total time of 6 weeks. This very important consequence of the proposed scheduling would reduce drastically the radiation damage to surrounding healthy tissues, evaluated in terms of normal tissue complication probabilities [126]. To achieve a uniform treatment of the target volume, as for ablation, the HT spots can be spaced in a raster by superimposing the isolines (or, better, isosurfaces) 50% of the thermal dose. There is no reason for the 50% isolines of our HT to have a different shape or location compared to the ablation treatment (Additional file 3).
The main limitation of our proposed treatment is that the tumor volume assumed in our modeling only measures about 4–6 cm3. However, in the light of the groundbreaking results described in this paper, maximum effort must be made to extend the size of the tumor mass that we can cure. It can be noted that we haven't considered methods for drastically lowering the frequency (220 kHz) to open the blood–brain barrier (BBB) and improve drug delivery [127–130], with the use of microbubbles [131, 132], nanoparticles [133–135], or contrast media [136]. Such a strategy is highly problematic [137, 138].
The proposed treatment can increase the treated region by using at least two different techniques.
Firstly: in the presence of radiation, the Sapareto–Dewey law [124] may no longer be valid, and a different model should be used to establish the time–temperature equivalence. If we follow the Law [125] expression (for every 1° increase, one third (not a half) of the time required for the same effect), the maximum temperature of the HT pulse in Fig. 1 would be less than 50 °C, and the useful impulse length would be about 6 s instead of about 8 s (for the same effect). In addition, a lower temperature HT pulse would require a lower ultrasonic (US) intensity, which means a lower pressure. In turn, a lower pressure on the skull would allow, at the same level of safety with respect to a possible cavitation event, a lower frequency. This latter would give a better US transmission and a lower temperature on the skull, thereby reducing the cooling time and allowing a larger target volume to be treated.
Secondly: making better use of the heat that flows, inside the target, from higher to lower temperature regions. In this regard, different methods are described in the literature of covering the tumor volume [139–143] more efficiently than the point-by-point strategy adopted here for simplicity.
In addition, it is important to consider correctly the evolution of GBM. All the three more complete GBM models mentioned in the text [47, 48, 51] predict that in the evolution of the disease, the biologically active region (proliferating and infiltrating) is pushed toward the periphery of the tumor, while the central part becomes progressively larger and necrotic. Therefore, it seems reasonable to concentrate in this peripheral region both radiation and HT. This would change radically the GBM treatment planning and would reduce significantly the region to be heated (and irradiated) [144].
In light of the above, there is significant room for improvement of the proposed technique.
As has been emphasized in relation to the results obtained, these new implementations also require careful experimental validation, but the door is open for a truly effective and, possibly, life-saving GBM treatment.
Addendum: this paper is dedicated, in particular, to our friends Mario Granata and Luciano Andreucci, who died from this devastating disease.
Abbreviations
BCNU:

Bis-chloroethylnitrosourea
BEV:

Bevacizumab
CDCs:

Non-cancer stem cells
CEM43 :

Cumulative equivalent minutes at 43 °C
CSCs:

Cancer stem cells
EBRT:

External beam radiotherapy
FUS:

Focused ultrasound
GBM:

Glioblastoma
HIFU:

High-intensity focused ultrasound
HT:

Hyperthermia
RT:

Radiotherapy
RX:

X-rays
SRS:

Stereotactic radiosurgery
TcMRgFUS:

Transcranial magnetic resonance-guided focused ultrasound
TMZ:

Temolozomide
Declarations
Acknowledgements
We are grateful to the referees for their constructive comments which have helped us to clarify several points in the text.
Funding
No funding for this research has been received.
Availability of data and materials
Data sharing not applicable to this article as no dataset were generated or analyzed during the current study.
Authors' contributions
GB, AN, MP, GP, GR, and MG conceived the study. LF, RC, and GF provided the clinical and biological rationale. CB, BC, and EC helped with the calculations. DL and SP prepared the manuscript. All authors read, approved, and contributed to the final manuscript.
Competing interests
The authors declare that they have no competing interests.
Consent for publication
Not applicable.
Ethics approval and consent to participate
Not applicable.
Open AccessThis article is distributed under the terms of the Creative Commons Attribution 4.0 International License (http://creativecommons.org/licenses/by/4.0/), which permits unrestricted use, distribution, and reproduction in any medium, provided you give appropriate credit to the original author(s) and the source, provide a link to the Creative Commons license, and indicate if changes were made. The Creative Commons Public Domain Dedication waiver (http://creativecommons.org/publicdomain/zero/1.0/) applies to the data made available in this article, unless otherwise stated.
Authors' Affiliations
(1)
Department of Medicine, University of Milano Bicocca, Milano, Italy
(2)
Physics Department, Liverpool University, Liverpool, UK
(3)
Department of Mathematics, College of Science, Swansea University, Swansea, UK
(4)
Istituto di Bioimmagini e Fisiologia Molecolare–Consiglio Nazionale delle Ricerche, Palermo, Italy
(5)
Istituto Nazionale Neurologico "C.Besta", Milan, Italy
(6)
Istituto Superiore di Sanità, Rome, Italy
(7)
Erasmus MC Cancer Institute, Rotterdam, The Netherlands
(8)
Sapienza University of Rome, Rome, Italy
(9)
Istituto di Bioimmagini e Fisiologia Molecolare–Consiglio Nazionale delle Ricerche, Milan, Italy